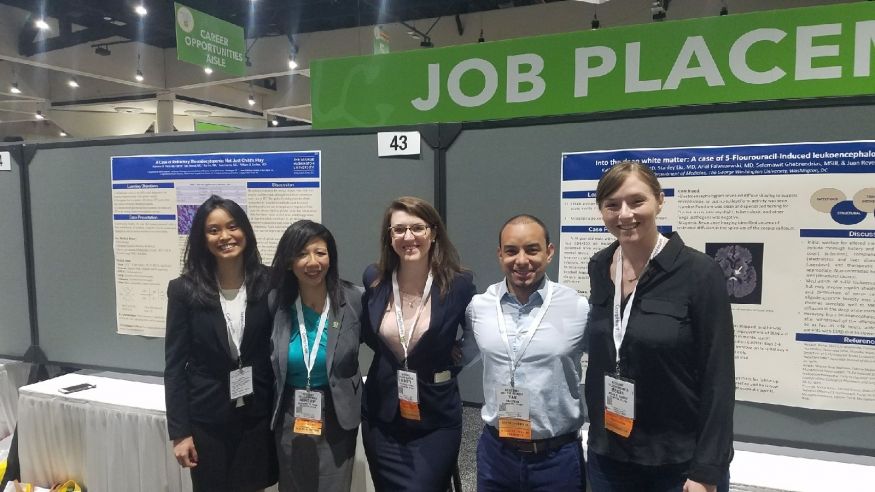 The GW Internal Medicine residency program fosters, supports and requires scholarly activity in all of its residents.  All residents are required to complete scholarly activity during training in the form of either:
2 abstracts (clinical vignettes, case reports, quality improvement projects) submitted during residency OR
1 scientific research abstract submitted during residency
Must be submitted to either:
a regional or national conference (American College of Physicians, Society of General Internal Medicine, etc), OR
a peer-reviewed publication.
Please forward the abstract itself, as well as the email confirming receipt of your submission, to Tori and Dr. Onumah for your file.
---
How to get started:
We encourage you to meet with the Division Director in your field of interest to discuss your interest and opportunities for research. You can also refer to this document to see current research being done by each department. 

Don't forget, the VA faculty is another wonderful resource and many residents have worked with mentors at the VA on scholarship projects!
SGIM (regional and national) and ACP (local and national) meetings are great places to submit clinical vignettes and research abstracts.  

Clinical vignettes involve writing up a case presentation, developing 2 learning objectives for the case, and completing a literature search to teach pertinent topics.  Good cases for

clinical vignettes tend to be either unusual/rare diagnoses, unusual/rare presentations of common diseases, or diagnoses that may not be rare but that are important for general internists to remind them of an important concept.
---
The ACP DC Chapter hosts a Fall (October/November) and a Spring (April/May) conference in DC each year to highlight resident scholarly work.  Residents are invited to submit clinical vignette and research abstracts for presentation as either posters or oral podium presentations.  **Please see the ACP guidelines for abstracts and adhere to them!** Submit your abstract directly to the program director, and judges will select those to represent GW at the conferences.
Canceled Conferences
If you had your work accepted to a conference that was subsequently canceled due to CoVID-19 or any other reason, please use this link for the correct citation format for your CV.